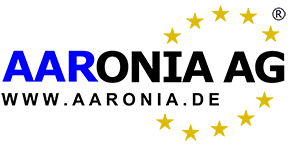 Aaronia
Aaronia AG is a manufacturing company of high end RF & MW equipment based in Germany.
Aaronia was founded in 2003 by Mr. Thorsten Chmielus and mainly produces Spectrum Analyzers, Generators, Antennas and Shielding Materials. In 2004 Aaronia shipped its first spectrum analyzer.
In 2008 Aaronia presented a new generation of the SPECTRAN spectrum analyzer, the V4 series. It was the first handheld RF analyzer to reach a sensitivity of -170dBm DANL - a world record.
In 2016 Aaronia released the SPECTRAN V5 series - the world's first and only handheld, real-time spectrum analyzer. The frequency range for the V5 Series was extended from max. 9,4GHz to 20GHz.
Todays purpose of the enterprise is development, trade and sale of measuring equipment, technologies and rights of low and high frequency measurement technique, robotics as well as screening/shielding of RF and E-fields and fundamental research at the segment of communications and measurement engineering, furthermore the construction of own circuitries and measuring methods in particular for the development of extreme sensitive and precise high-frequency measurement devices.